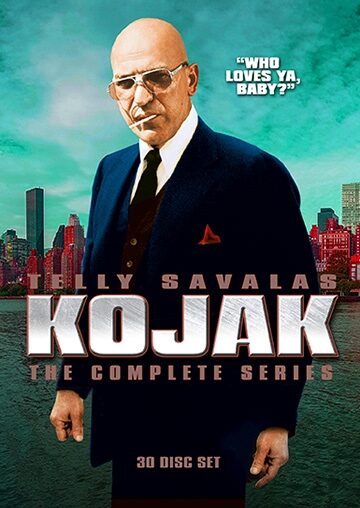 24. October 1973

English

7.1

Danish, Swedish, Norwegian, Finnish
Synopsis
On the timeline of successful TV cop dramas, Kojak offered bold authenticity and paved the way for NYPD Blue. As immortalised by Telly Savalas, veteran detective Theo Kojak was introduced in the 1973 TV movie The Marcus-Nelson Murders, a ratings hit that encouraged CBS and writer-producer Abby Mann to create a trend-setting series (based on a book by Selwyn Raab) that premiered on October 24 of that year.
The Greek, bald-headed, snappily attired Kojak brought no-nonsense bravado to homicide cases in South Manhattan – a setting that lent a gritty, urban edge to intelligent plots that won the respect of real cops with an emphasis on diligent police work instead of overblown action and phony glamour. While working cases with his captain Frank McNeil (Dan Frazer) and closest colleagues Crocker (Kevin Dobson) and Stavros (played by Savalas's brother George, credited as "Demosthenes" for the first two seasons), Kojak had a knack for bending the rules (but never breaking them) if he knew it would solve a crime.
Kojak came at a perfect time for Savalas and cop dramas in general. The actor's career was slumping in the early '70s (he'd just appeared in the Italian horror film Lisa and the Devil), and he quickly put his personal stamp on the role with street-wise sarcasm and trademark lollipops (a perfect prop that Savalas adopted to quit smoking).
Consistently well-written, the series was realistically rooted in a broad spectrum of New York City crime. These qualities attracted plenty of fresh and established talent, including guest appearances by Harvey Keitel, James Woods, Richard Jordan, Hector Elizondo, John Ritter (in one of his first TV roles), Paul Michael Glaser, Dabney Coleman, Tina Louise, and a host of familiar TV veterans.
For the debut season, Savalas won the Emmy Award for Outstanding Lead Actor in a Drama Series, and Kojak ran for five well-rated seasons, followed by several TV-movie revivals in 1985, 1989, and 1990. The enduring popularity of Kojak was further proven when the show was revived yet again in March of 2005, with Ving Rhames in the title role.
And now, it's an open and shut case for this slick, well plotted, entertaining series, with all 118 newly remastered episodes, from all 5 seasons, available together for the very first time in this 30 disc box set with 97 hours of playing time.